Share this URL: https://kyoto365-190312en.peatix.com/
Event is FINISHED
Join the World of Kyoto Spring Culture
We invite you to visit a side of Kyoto that you will not find in a travel guide.
Enjoy culture of Kyoto together with a taste of spring!
This special event will be held at the picturesque Shosei-en Garden at Higashi Honganji, a place known for its considerable beauty.
Chefs at famous, long-established dining establishments that symbolize Japanese food culture will flex their gastronomic skills using seasonal ingredients.
Masters of the tea ceremony will serve cups of tea accompanied with seasonal Japanese confectionaries.
Geisha and maiko will show off their elegant dancing wearing kimonos and ornamental hairpins that lend color to the spring season.
The culture of Kyoto has been cultivated amid the changing of the four seasons.
Don't miss this rare chance to enjoy firsthand the real Kyoto in an extraordinarily unique way!

Event Outline
Date: Tuesday, March 12, 2019
Time: 1st Session: 11:30am – 2:00pm Opening 11:00am
    2nd Session: 4:30pm – 7:00pm Opening 4:00pm
Price: General admission 15,000 yen (tax incl.)
    Student 4,000 yen (tax incl.)
Venue: Shōsei-en Garden at Higashi Honganji
Higashitamamizucho, Shimogyo-ku, Kyoto-shi, Kyoto

Event information
One day only! Special kaiseki cuisine course
A collaboration between chefs who give new life to traditional dishes



Chefs

Shingo Sonobe (YamabanaHeihachi-jaya, The Chairman of Kyoto Ryori Mebaekai)
Keigo Tamura (Kyoto Cuisine Manshige)
Yoshihiro Takahashi (Hyotei)
Takashi Annen (Kyoto Cuisine Shimogamo Fukusuke)
Hideki Shimoguchi (Byodoin Omotesando Chikurin)
Teruhiko Isohashi (Arashiyama Benkei)
Yoji Satake (Minokichi)
Shogo Sasaki (Izuu)
Yoshinori Tanaka (Kyoto Cuisine Toriyone)
Soichiro Hidari (Kyoto Cuisine Tatsumiya)

*Chefs for the first and second session are different.

A cultural experience like no other – in a place ordinarily not open to the public
Enjoy Kyoto's striking spring season with this feast for all the senses

Tea ceremony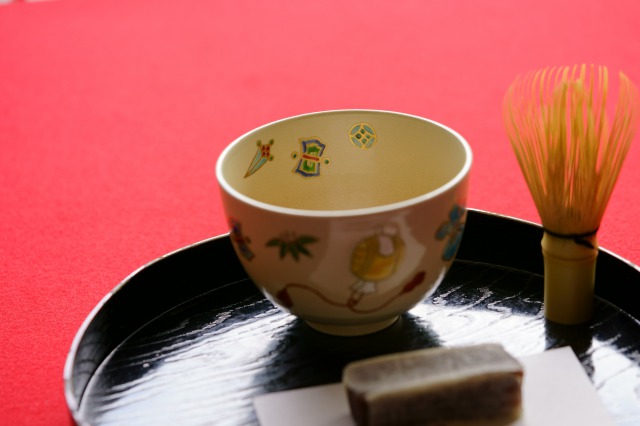 Dance by geisha & maiko


*Picture may vary from actual item.
*Event details are subject to change.

Organizer
Agency for Cultural Affairs; Gurunavi, Inc.
Supported by the Agency for Cultural Affairs in FY2018

Co-Organizer
Kyoto Cuisine Mebaekai

 
Agency for Cultural Affairs "2018 Strategic Arts and Culture Creation Promotion Project" 

Seeking to generate new value around the legacy of Japanese food culture through collaboration between local cuisines and cultural resources, based on regional characteristics, this model project is being conducted in Kyoto as a way to create, develop, and utilize cultural resources.

For inquiries
"Join the World of Spring Kyoto Culture" Inquiries office
EMAIL: kyoto365-tkt@gnavi.co.jp
If you are using a mobile or smartphone address, be sure to whitelist "@gnavi.co.jp" so emails are not sent to spam.

*Important Points to Note
Prior to purchasing a ticket, please first read the following.

■Content of the experience is subject to change depending on the circumstances.

■Up to 4 tickets can be bought at once.

 Please purchase additional tickets separately if you wish to reserve more than 4 spots.

■Once payment has been completed, cancellations or refunds cannot be made by applicants.

■In order to guarantee attendee safety, the program may be changed or cancelled outright due to unavoidable circumstances such as disaster, weather, or venue overcrowding.

■Tickets will not be substituted for other tickets, including those for other dates and times, except in cases where the performance has been cancelled on the date and time indicated on the ticket.

Please also note in advance that compensation will not be provided for transportation, accommodations, or other expenses even in cases where the event has been cancelled.

■Intentional resale of tickets on Internet auctions, etc. is prohibited. Purchasing of tickets for resale purposes is strictly forbidden.

■General tickets may be purchased by anyone aged 16 or older. Student tickets may be purchased by students aged 16 or older. Children who are still in preschool age or younger may not attend this event.

■On the day of the event, please prepare a ticket purchase screen, a ticket issued at a convenience store or an email notification screen to show upon being admitted.

 Applicants' ID will be checked at the reception area on the day of the event.

 *Applicants who do not present the above may be refused admission.

 Students will be asked to present their student ID at the reception area.

■Admission tickets will not be mailed.

■Dishes offered on the day may contain one or more of the 7 most common allergens (shrimp, crab, wheat, buckwheat, eggs, milk, peanuts).

For people with a food allergy, including those mentioned above, and for those needing information on other ingredients, please check with the venue staff on the day.

■Press camerapersons may be present on the day of the event.

 Video or photographs of the inside of the venue, attendee seating included, may be used at a later date. If this is not acceptable, please notify the reception area or an event staff member.

■Attendees may be asked to undergo a security check or to check in their belongings on the day of the event.

 *Belongings deemed to be inappropriate by the event organizer will not be allowed into the venue.

■No special parking area for the event will be available at the venue. Please use public transportation or the paid parking areas located in the surrounding area.

■Attendees spotted engaging in acts that cause nuisance to other attendees may be asked to leave the premises.

 Note that in such instances, no refunds, etc. will be provided.

■The organizer, venue, or performers accept no liability whatsoever for any accidents, theft, etc. that occur within or outside the venue.













read more
Updates
会場 は Shosei-en Garden Rofu-tei (Kikoku-tei Mansion) に変更されました。 Orig#409107

2019-02-13 03:06:35
Tue

Mar 12, 2019
11:00 AM
-
7:00 PM
JST
Add to Calendar
Venue

Shosei-en Garden Rofu-tei (Kikoku-tei Mansion)
Tickets

General admission 1st Session: 11:30am – 2:00pm

SOLD OUT

¥15,000

Student 1st Session: 11:30am – 2:00pm

SOLD OUT

¥4,000

General admission 2nd Session: 4:30pm – 7:00pm

SOLD OUT

¥15,000

Student 2nd Session: 4:30pm – 7:00pm

SOLD OUT

¥4,000
Venue Address

Shomen-dori Ainomachi, Higashi-iru, Shimogyō-ku, Kyoto

Japan
Organizer
Attendees
28